Rayong, an uncut diamond
By VIP Real Estate Ltd In Attractions in Rayong, Beaches in Rayong, Mae Rampheung Beach, Rayong On February 2, 2016
---
Rayong is and will hopefully continue to be an uncut diamond. Rayong has everything to wish for, great nature, the best beaches, islands, attractions, shopping, authentic culture, low prices etc. The scene is set for a holiday destination like Pattaya or Phuket, where most foreigners go.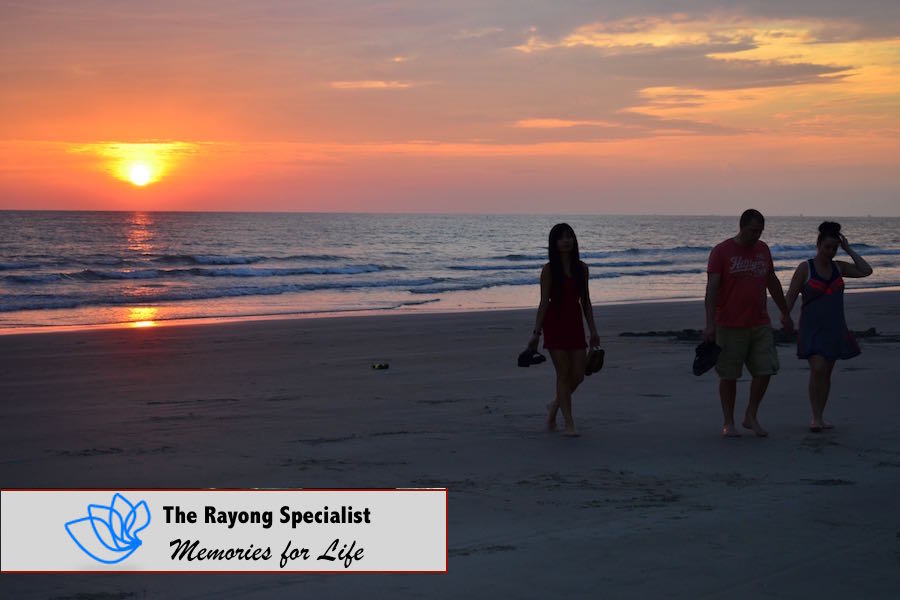 The foreigners who DO choose Rayong appreciate all the qualities of Rayong, and they then appreciate that Rayong is still an uncut diamond. No crowds, no waiting lines, no noise, no red light districts, but quiet nature, clean air and lots of space. Take a look at the photo. That's what people enjoy about Rayong.
Cost of living
The vast majority of visitors to Rayong are Thais, and that keeps prices down. A clever businessman puts his prices up to the level where his customers are still willing to pay.  In places with scores of rich foreigners, for example Hua Hin, the prices are driven up. In Rayong they are not. If you want to do business in Rayong, then you need to sell for prices that Thais are willing to pay. It's that simple.
Of course there are some draw-backs. You won't find fluent English speakers, even at the more expensive hotels. But even the street vendors know enough English to tell you the price. That comes with authenticity, and it's charming in a way.
In Rayong you will see the real Thai culture in the way Thais treat each other. The culture hasn't been spoiled by moody foreigners shouting and complaining because they can't get exactly what they are used to back home. Thai culture is to treat each other with respect and never show anger, and that's one of the most amazing things about the real Thai culture.
The street vendors and shop owners aren't in any way agressive either. They won't drag you into their shops, they won't tell you a too high price because you are a foreigner, and they won't follow you along trying to make you buy something. They are patient and rather leaned back, and you can look and feel before you ask for the price. And don't start bargain for half the price. That behaviour belongs to Pattaya or Phuket or some areas of Bangkok. The price you get is the honest price as if you were a Thai. It's always OK to ask for discount if you buy more than one, but often you will be met with a smile and a "cannot". That's because the price is already the authentic Thai price.
Just relax
If you enjoy the crowded streets of Bangkok, the crowded beach in Hua Hin or the endless row of bars in Pattaya, then you will quickly feel yourself in the middle of nowhere in Rayong. There's always space on the beach. You can always easily cross the road. You can go for a walk and enjoy the silence of nature, and you can sit on the beach and enjoy the sunset without anybody trying to make you buy something.
And should you miss some noisy night life on a Saturday night, then Pattaya is just an hour away, and Bangkok just three hours away.
Thai greetings
Thais don't shake hands, but they "wai" each other. Just like in our culture has different kinds of handshakes in different situations, the Thai wai has different positions of the hands according to how much respect you should show the person you are greeting.
When Thais greet a monk, they wai with the fingertips all the way up to the forehead. Politely greeting foreigners is done a bit lower, and greeting friends and other less formal persons is done like the girl in the photo with the fingertips at the chin.
Thai culture also shows more respect for older persons. When a younger person greets an older person, it's done a bit more formally, and they even talk to, and about older persons by carefully using "Mr" and "Ms" before the names.
Don't be afraid of giving a wai, and don't be afraid of not doing it. Thais know that you are a foreigner, and they don't see it as disrespect if you haven't learned how to wai properly. But don't start shaking hands! This is just not the way to do it, so just smile and look happy when you say hello or thank you or good bye to Thais. That always works.
So why Rayong?
Because it's an uncut diamond! A diamond because of the great nature and authentic culture, and uncut because it hasn't turned into an expensive colorful tourist circus like many other places.
---