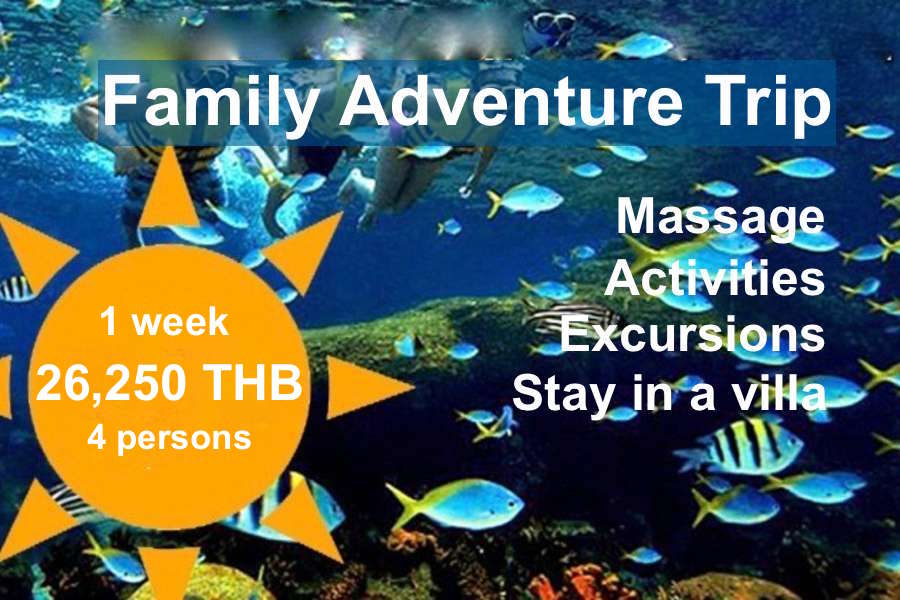 Family adventure trip
You only need to find the cheapest plane ticket to Bangkok yourself.
The price is for four persons, 1 week
Additional persons 3,000 THB each
Stay in Tropicana Family Villa in the VIP Chain Resort at Mar Rampheng beach, Rayong
The villa has two bedrooms, bathroom, living room, kitchen and a big terrace
Transport to and from the airport
4 x 1 hour massage/treatment in Apsara Wellness Center
Tennis and minigolf
Canoe or kayak one day from the beach
One day sailing for the family
Excursion to Rayong Aquarium
Excursion to Central Rayong shopping mall and mini floating market
WiFi Internet
Daily cleaning, electricity, water
One bottle of water per person per day
This family adventure trip includes some great trips and excursions in the local area, and also gives you plenty of time on your own, where you can enjoy the activities in the resort or on the beach, og go somewhere on your own.
See also a complete list of activities and attractions in Rayong.
---