Activity Program
By VIP Real Estate Ltd In Mae Rampheung Beach, Rayong On May 2, 2017
---
Welcome to VIP Chain Resort
and The Oriental Club
Seasonal activities in VIP Chain Resort and Oriental Club
The activities are frequently being updated
See the notice at the reception for the latest updates
Activities during the week
Every Saturday
18:30 Bug buffet with a variety of Thai and European dishes, salad buffet, soup and sweets.
Including coffee or tea 295 Baht, children up to 12 years 150 Baht.
Every Friday
19:30 to 21:00 evening entertainment with music from '60s, '70s and '80s and music videos. Come and relax and join.
Special price for a selection of cocktails 150 Baht. Irish Coffee 195 Baht. Wine per glass 80 Baht or a decanter for 400 Baht. Free snacks.
Every Wednesday
18:30 to 20:30 Italian-American dinner. Make your own burger or enjoy pasta. We will make everything ready and we grill our five different special burger steaks, and then you make your burger yourself. Including pasta, soup and salad bar.
Eat all you can including 1 burger 195 Baht or including 2 burgers 275 Baht.
Everyday activities
8:00 to 10:00 Breakfast buffet 240 Baht. Buy 10 breakfast coupons for 2,000 Baht.
15:00 to 15:45  Afternoon Tea or coffee with some light cake, complimentary for residents, 75 Baht for outside guests.
16:00 to 17:00 Happy hour! A glass of cold beer 50 Baht, a class of chilled red wine or white wine 60 Baht, fresh made juice 100 Baht, mini banana split with 2 ice cream balls 80 Baht. Free snacks.
9:00 to 18:30 Enjoy traditional Thai massage or a special treatment in Apsara Spa and Massage Center. Buy cash coupons and get up to 26% discount.
17:00 to 18:30 Pizza take away, special price 150 Baht per pizza, Spaghetti Bolognese or Carbonara 100 Baht, Pat Thai 100 Baht, wine 0.6 liter 350 Baht. Must be ordered the same day before 16:00 for pick up between 17:00 and 18:30.
11:00 to 21:30  A la carte Thai and International food, except Saturdays.
REMEMBER:  You can buy cash coupons and pay for everything in the restaurant and the spa with a discount up to 26%
Monthly Activities
31/12  Special Big New Year's Eve party with cabaret show and live band entertainment non-stop from 19:00 until midnight. Big special New Year buffet 1,500 Baht including a glass of champagne at midnight. Or you can choose free flow of wine, beer and soft drinks from 19:00 to 23:45, a cognac with your coffee or a cocktail and a glass of champagne at midnight for total 2,800 Baht. You will be seated at group tables. Children up to 12 years get 50% discount.
You can also choose to participate from 21.00 to midnight without the gala dinner and just enjoy the entertainment, including 1 drink and a glass of champagne at midnight for just 500 Baht.
Must be booked in advance. Booking after December 30 adds 50% to the price. There are limited seats for this event.
January   6/1  Children's Day at the pool from 1pm to 3pm for both children and adults. We                                                        serve pizza, pasta and burgers with French fries and ice cream and soft drinks. There are games at the pool. Price 250 Baht per person, child or adult. The whole family must book together. There are small gifts for the children.
February   14/2 Valentine's Day and Chinese New Year with special romantic dinner and roses                                                                      for the girls. Price 350 Baht.
April 13-14 Thai New Year and Sonkran Festival with "all you can eat" BBQ seafood buffet dinner.
For all monthly activities you need to book in advance. There are limited seats for these events.
Ask for the special program in the reception.
Remember: Pay with cash coupons and get up to 26% discount!
Spoil yourself
Visit Apsara Spa and Massage and enjoy authentic Thai massage and body treatment.
Open daily from 8:30 to 18:30. Ask for our Spa menu, or get some good advice from the spa manager. There are many different package treatments, or just enjoy one of the popular massage and spa treatments for one or two hours.
Foot massage 1 or 2 hours 400 – 750 Baht
Thai massage, 1 or 2 hours 400 – 750 Baht
Oil massage per hour 500 Baht
Special muscle massage according to your needs, 500 Baht per hour
Foot spa 1 hour 600 Baht
Special massage for children 1 hour 500 Baht
Face treatment 1 hour 650 Baht
Hot stone massage 1 hour 30 min 1,000 Baht
Herb compression 2 hours 1,200 Baht
For special spa & body treatment one to five days program and more information visit our website vipchainresortrayong.com
GET BIG DISCOUNTS – BUY COUPONS
The more you spend in VIP Chain Resort, the more discount you get.
Simple buy cash coupons and get discount.
Pay  10,000      get  + 15%      Spend   11,500
Pay  19,000      get + 21%       Spend   23,000
Pay  36,500      get + 26%      Spend   46,000
Cash coupons work like money that you can use to pay for all kinds of food, beverages and breakfast including special promotions and arrangements, for example BBQ dinner, Christmas party, New Year gala dinner and other events during the year.
And you can use the coupons to pay for the whole family and friends as well.
Pay with coupons both on the beach and in Sea Sand Sun and in VIP Chain resort.
The coupons can also be used for all kinds of spa and massage treatments, WiFi, towel renting, cleaning and laundry service.
And if you buy for 19,000 Baht or more, you will also get 10% discount on all taxi transport.
The coupons expire after 2 years from the issue date and are non-refundable.
Payment for coupons in cash only – not by credit card.
The VIP Chain Resort
Out resort offers a variety of facilities like a restaurant, pool bar and 2 common pools, 18 pool houses and 3 pool villas, tennis, fitness, big spa and wellness center, mini golf, and a putting green for real golf practice. We also offer an activity area with meeting and party facilities reception service, children's playground and a continuing activity program. Breakfast buffet every day and a Thai and international kitchen. Everything you need for a relaxing and happy time together.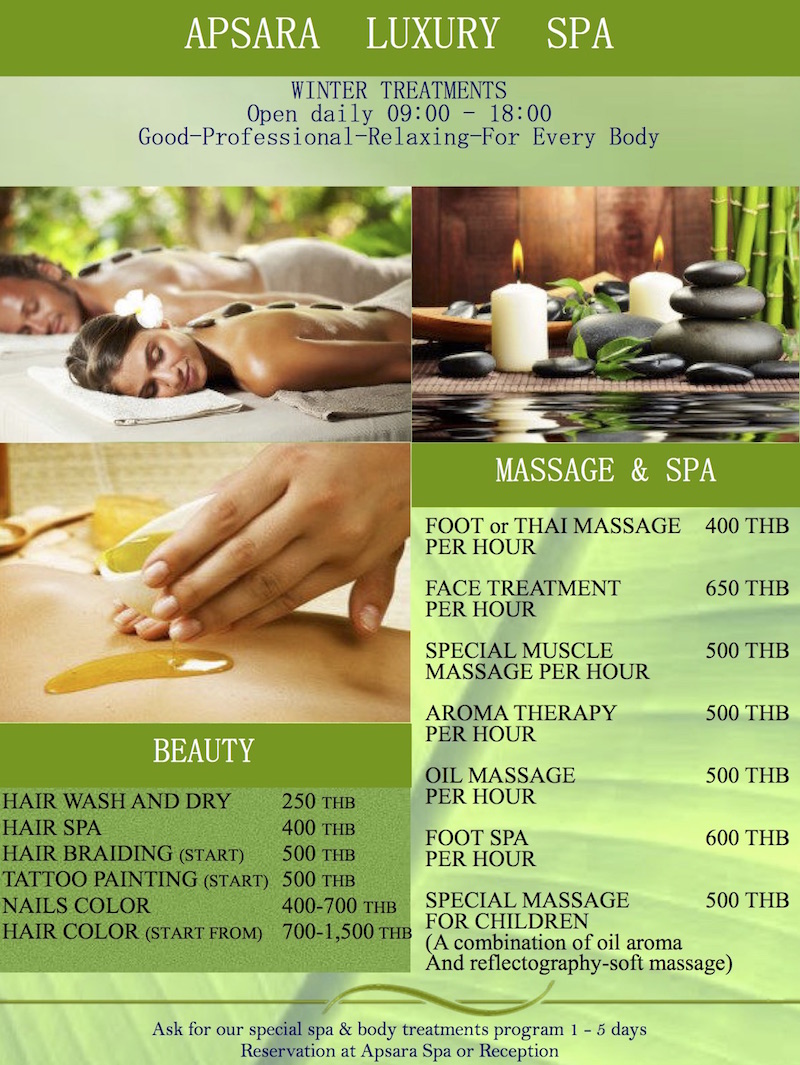 More information about Spa and Massage treatments >
For more information or any help, please contact the reception.
Follow us on  www.facebook.com/viprealthailand
TEL.  03 865 2539,  08 6411 3400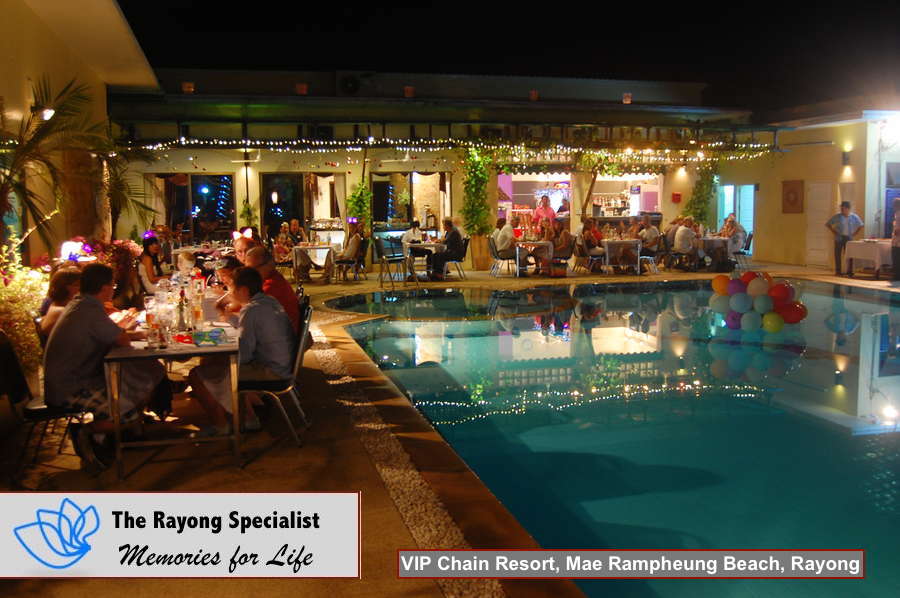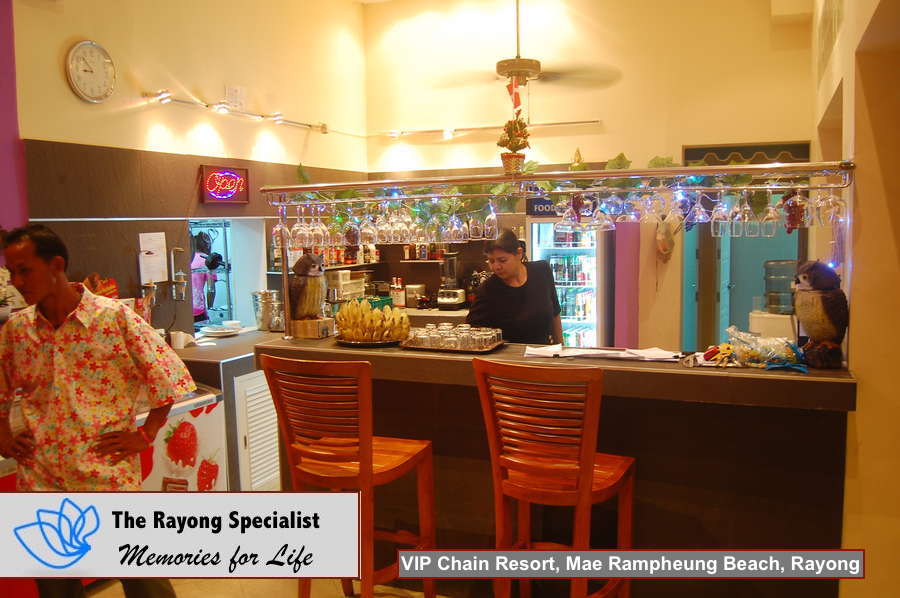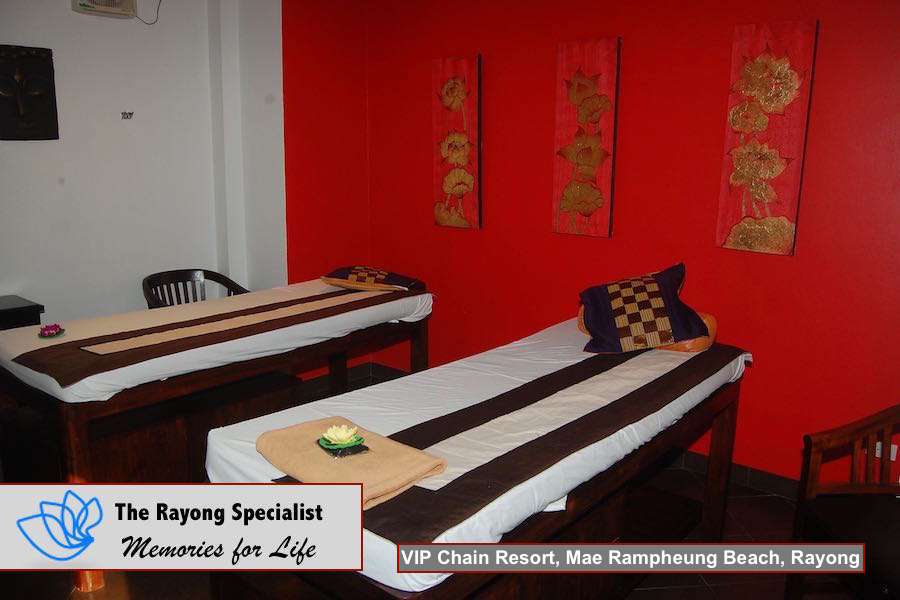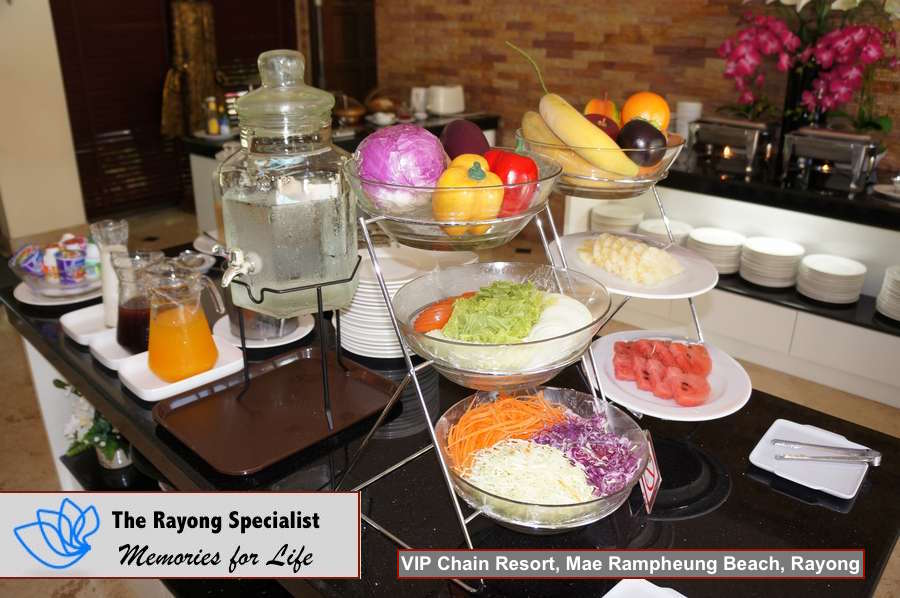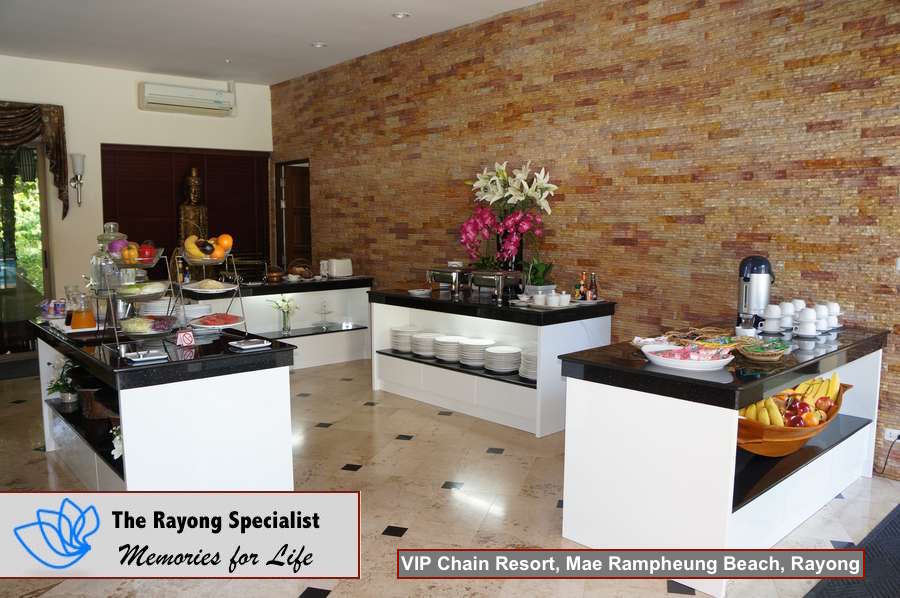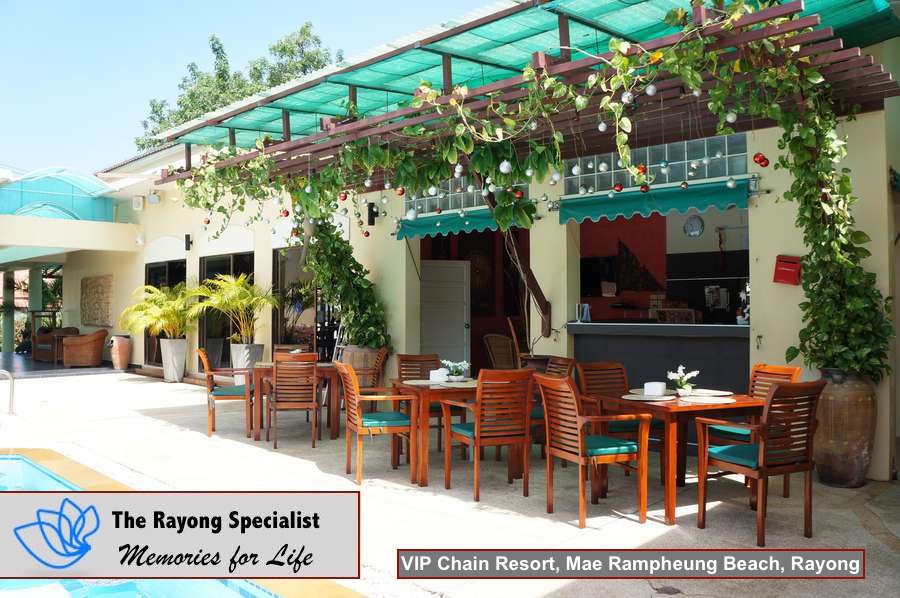 ---