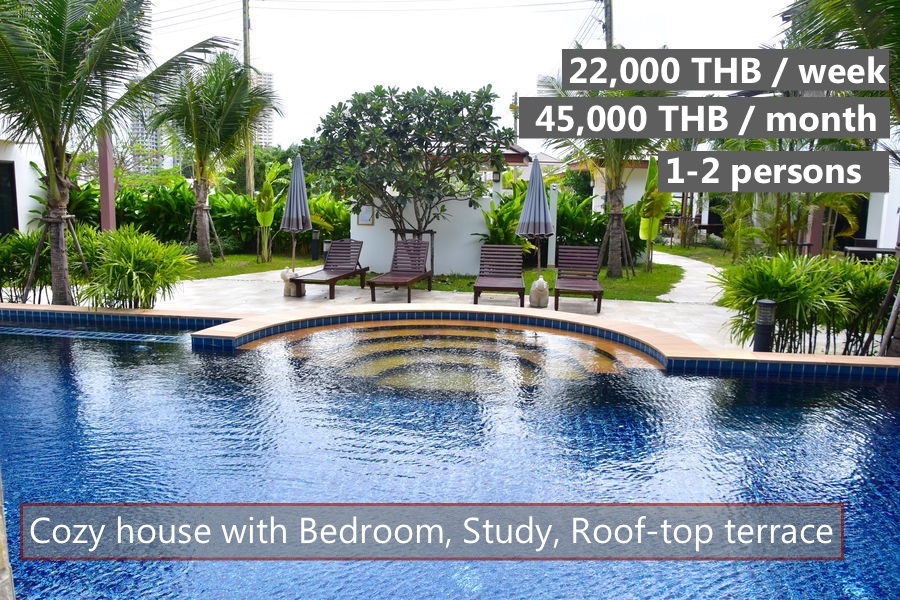 Retirement house for rent with luxury furniture for 2 persons with separate office at the Beach in Rayong
This house is located inside the VIP Chain Resort right at the 10 km long Mae Rampheung Beach Road.
This luxury type of house is a special concept, where you share a big lovely closed pool garden together with eight other houses. You can stay in and around your own house and enjoy your privacy, or you can have a chat with some of the other guests in the pool garden. The pool is 14 meter long.
These exclusive houses in the Oasis Garden III pool garden are especially furnished for two persons, and it is not allowed to have children under the age of 18 staying in the houses. There is a combined living room and kitchen, and on the ground floor there is a quiet and comfortable small study, perfect if you have some work to do during your stay.
On top of your own closed shared pool garden, you of course have access to all the facilities of the VIP Chain Resort as well.
Please note, that you might not stay in exactly the house shown in the photos, but in any of our houses of the same type. The furniture and decoration vary slightly from house to house, but they are all equipped the same. Microwave oven and washing machine is available for a small additional fee.
Visit the Tropicana Villa website for more information >
---
Facts about VIP Chain Resort
---