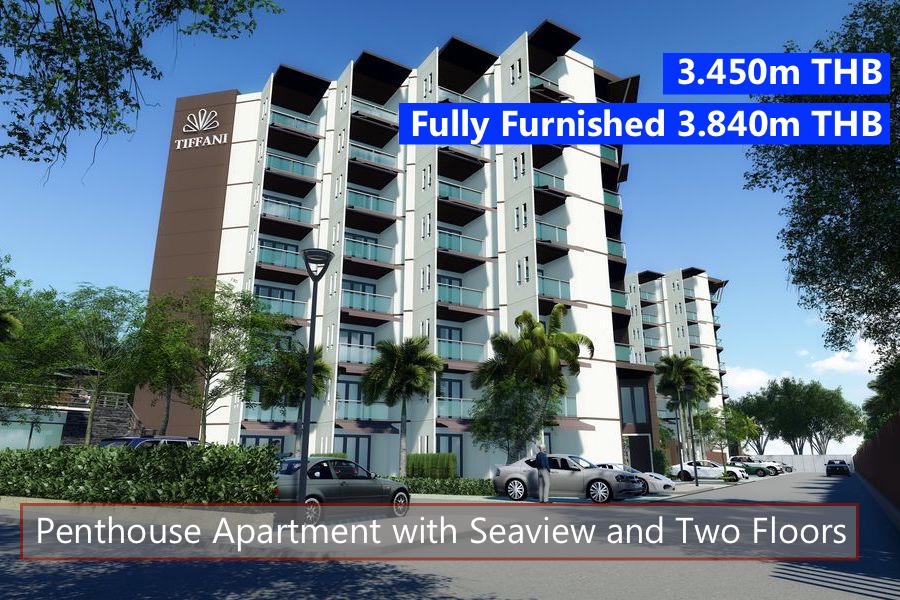 Beach Penthouse apartment with 2 floors and sea view in Tiffani Beach Condominium Rayong Thailand
This apartment is located in the brand new Tiffani Beach Condominium 300 meter from the 10 km long Mae Rampeung Beach.
The apartment is on the 7th and 8th floors with stairs inside the apartment and has a luxury bedroom on the 7th floor with it's own balcony. The living room and kitchen is on the 8th floor, and the sofa in the living room can be changed into a double bed for a couple of guests as well (part of the interior furnishing package).
You have two private balconies, both with sea view, and the furnishing package includes furniture for the terrace as well. You have access to the big and lovely shared pool garden.
Tiffani Beach Condominium has its own website. Head over to tiffanirayong.com for further information. This apartment is type 82 m2 on the 7th and 8th floor.
Please note that the photos in the gallery are model photos from other similar apartments. Tiffany is under construction and will be ready in 2018.
---